REAL FOOD. HEALTHY LIVING
MODERN WELLNESS
Get on track with free recipes, tips + inspiration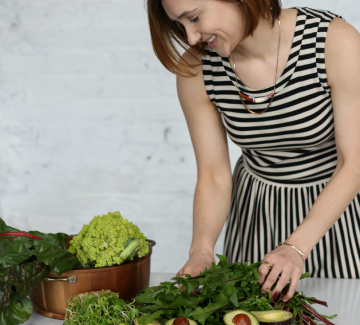 Amanda is everything I could ask for in a wellness coach. She's knowledgeable, easy going, welcoming, and provides great guidance to maintaining a balanced life style. I have gone through a few other nutrition sessions with other people and they all made me nervous and self-conscious. As someone who has struggled with weight throughout my life, I was looking for some guidance, ideas, and a place to get my mind back into the right place. When I first walked into Amanda's office I'm pretty sure there was a massive cloud of guilt hanging over my head: Guilt for overeating, not always staying on track, and gaining a few pounds. Amanda grounded me through her coaching, ideas and knowledge. By creating small goals and slight changes I really could feel myself becoming healthier, physically AND mentally as well. By understanding my relationship with food, I am now in control of my wellness and that power is priceless. Thank you, Amanda.
MICHELLE H. – CHICAGO, IL
During past twenty years or so, I've struggled with my weight. I decided it was time to take control of my eating habits and start educating myself on proper nutrition as well as exercise. Fortunately for me I stumbled across Amanda Skrip's blog after searching for healthy recipes. I followed her blog faithfully for a couple of months, gaining helpful, nutritional information and tasty recipes that I could implement into my daily routine. After seeing immediate results with my weight loss, I took the opportunity to schedule a nutritional consult with Amanda. Dividends paid off at once by choosing healthier versions of my favorite foods with my newfound knowledge. End result, I lost 30 pounds over the course of a year and have not struggled keeping the weight off. She taught me not to count calories, rather look at the nutritional importance of the food I now consume and portion control. This way of thinking was my key to a healthier diet and lifestyle. Amanda is a born teacher that has the remarkable gift of simplicity. Her advice is spot on making nutrition fun, informative and easy to understand. I highly recommend her services. I only wish she was based out of Boston, rather than Chicago, as I'd love to partake in her cooking classes that she offers.
BOB S. – BOSTON, MA
Amanda is the BOMB! I cannot say enough good about this talented, enthusiastic, gifted young lady. She is doing what she is meant to be doing! I have attended five of her cooking classes and had a private session as well. I have learned so much and love to cook more and more. The recipes she has given me are incredibly yummy, easy to make, and good for me! I am at the point I enjoy eating in more than I have in my entire life.
I encourage my own clients to see her and take classes. I highly recommend her!
GERALDINE M. – CHICAGO, IL
I'd recently lost 40 pounds but had hit a plateau that had lasted for several months and was frustrating me. I was bored and tired of everything in my refrigerator. Amanda provided me with the kickstart I needed. Her suggestions were healthy, reasonable, and easy to incorporate into my daily diet. She also had the most creative food ideas. The recipes and suggestions she sent me were not only healthy, but they were delicious- and they were EASY! Not only that, but they were chosen specifically for my preferences and tastes. I always thought I was too busy to cook and that it was hard, but she taught me otherwise. I started working with her in October and three months later my diet is made up almost exclusively of her recipes! Since eating in this more "clean" way I have so much more energy and I just feel so much healthier.I really looked forward to our chats,too. Amanda is such a good and patient listener and very supportive; never allowing me to beat myself up for mistakes I felt I'd made. Every time I talked to her and got off the phone feeling fresh and ready to start a new week. I think she's great at what she does and has a good energy, and fantastic ideas! It's been a pleasure working with her.
JILL P. – CHICAGO, IL
I started working with Amanda for private cooking classes as I wanted to learn different, healthy ways to feed my family. In addition to teaching the basics, my classes with Amanda have been incredible. I have learned so much in terms of how to improve what I eat. Additionally, I have learned to cook some wonderful recipes and some yummy healthy treats that my whole family loves. Amanda is easy to work with and answers all of my "why this and not that" questions. I now cook almost every night of the week and it no longer feels like a chore, but rather something I truly love to do. I owe this all to Amanda!
AMY Z. – CHICAGO, IL
Amanda has truly changed my life. She introduced me to new foods and healthful ways to prepare them. Amanda has educated me, introduced me to the benefits of a natural foods diet, has supported my family and I towards improved health, and has helped me cater events. I now feel energetic and healthy. What a blessing!
LAURIE G. – HIGHLAND PARK, IL
MOST POPULAR
Getting a balanced breakfast in everyday can be a challenge; there never seems to be enough time, and it feels like you are making a choice between fast or healthy.
Read More...